Shopping Cart
Your Cart is Empty
There was an error with PayPal
Click here to try again
Thank you for your business!
You should be receiving an order confirmation from Paypal shortly.
Exit Shopping Cart
| | |
| --- | --- |
| Posted on June 5, 2012 at 12:55 AM | |
DAILY VAULT ALBUM REVIEWS by Tom Haugen 6/4/2012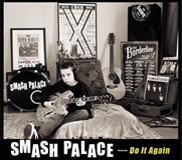 Stephen and Brian Butler have an interesting story. The brothers fronted the outfit Quincy in the early '80s, releasing a record on Columbia and gaining steam before producer Quincy Jones put an end to that. Unhappy with the name Quincy, Jones sent the Butler brothers a cease-and-desist, and the band broke up.
 
Undetermined to stop making music, the Butlers forged on under different monikers before deciding on Smash Palace in 1985. The band released a self-titled disc on Epic in 1985 and followed it up with some MTV rotation and high profile tours. However, that didn't last long, and they soon took songwriting jobs for major labels, working behind the scenes with more recognized artists.
 
Smash Palace officially reunited in 1999 and has since churned out a new album every couple years, and even if they've remained under the radar from the mainstream world, that isn't stopping these New Jersey rockers. Inspired by The Beatles and later influenced by the punk and New Wave bands they saw play in NYC, the band continue on with their power-pop melodica, …Do It Again being their eighth album.
 
"Living It Lonely" sets the disc off on the right pace with an instantly memorable guitar work and jangly vibes, and although a good portion here sounds like a timeless college rock meets bar rock venture from the mid-'80s, they delve deeper into their bag of influences with laid back rocker "Tell Her Now" which brings Tom Petty to mind. "Can't Make It Without Her" has a '70s rock feel to it, illustrating that the Butlers are well versed in all generations of rock music. Meanwhile, "Tell Her Now" sounds like the tune The Kinks forgot to write.
 
In a world when straightforward gritty rock 'n' roll is becoming more the exception than the rule, it's nice to know bands like Smash Palace are still penning guitar driven rock that spans all decades since the '60s. There's definitely a lot of mediocre bands out there keeping this sound alive, but Smash Palace aren't one of them. File this one under extraordinary.
Categories: None
/