Shopping Cart
Your Cart is Empty
There was an error with PayPal
Click here to try again
Thank you for your business!
You should be receiving an order confirmation from Paypal shortly.
Exit Shopping Cart
| | |
| --- | --- |
| Posted on July 6, 2010 at 1:10 AM | |
ABSOLUTE POWERPOP  July 5, 2010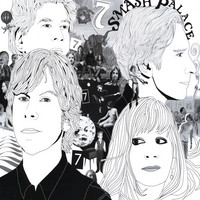 Smash Palace has been around since the 80s, but somehow they've managed to come up with what might be their best album in a deep catalog of quality releases. Whether it's the Revolver-styled cover or the dawn of a new decade or something in the air, these veteran Philly poppers have one of 2010's best on their hands.
Long-time Palace fans will love this disc of course, but this is also a perfect time for the uninitiated to get on board. They're versatile among the many power pop styles - whether it be a mid-period Beatlesque sound, Byrds-like jangle or straight up power pop, they do it all well. The 1-2 punch of "Win it All" and "How Can You Say?" is perfect way to open the disc, with both being energetic and melodic rockers. "Holding Out for You" is the kind of tuneful ballad that might have been a hit in their 80s days, and "Human Kind" might just be the best song on the album, a punchy rocker with some jangle that definitely lives up to the promise of the Revolver cover art.
The second half of the disc doesn't slack off either. The Tom Petty-ish "Here it Comes Again" would have made a great Side 2 opener in the days of LPs, with its insistent melody and "whoa-oh-oh-oh" backing vocals. The gentle acoustic guitar-and-piano ballad "Bridge of Sighs" is another triumph, and "Dead End Street" is classic Smash Palace. "Somebody Up There Likes Me" boasts some nice Harrisonesque slide guitar and "Solo" closes the album in style with yet another catchy melody. It's certainly a lucky "7" for both Smash Palace and anyone who picks up this disc.
Categories: None
/